Home
Patsy Cline
Appreciation
Meet the Author
Photo Gallery
Book Reviews
Book Excerpts
The Musical
In Memoriam
Patsy's Mom
Hilda Hensley
Patsy & Loretta
Movie Photos
News
Audio / Video
Patsy Cline Letters
Author Interviews
Memorabilia
Trivia
Games
Fan Comments

Louise Seger Feature

Country Store
Author Links
Add Our Banner
Home

Thank you for visiting the Website of Ellis Nassour's
Patsy Cline :
Honky Tonk Angel
For information about Patsy Cline or to E-mail comments:
PatsyHTA@aol.com

Remembering Patsy Cline
Every day, you're missed more and more!
A

nyone worth remembering lives.
Patsy Cline
LIVES!
Patsy Cline was the pioneer for women in country music.
She broke through the glass ceiling before there was a glass ceiling!
"

Honky Tonk Angel

has been one of our most consistent sellers since publication of the 1993 hardcover Collector's Edition.
It has found thousands of fans around the world,
and continues to elicit incredible praise."
Amazon.com


Photos 1993-2021 Ellis Nassour, & Chicago Review Press; from Honky Tonk Angel:The Intimate Story of Patsy Cline
STILL the Definitive Biography of Country's Li'l Darlin'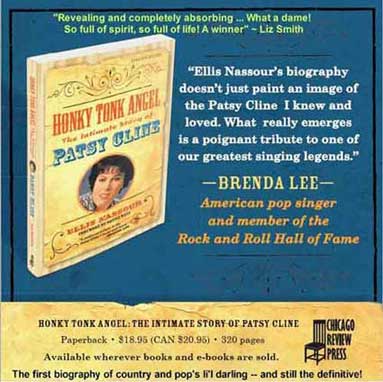 Trade Edition Soft Cover, 424 pages
Internationally-acclaimed, best-selling biography of the earthy, innovative legend
who put the Nashville sound on the map. This "colorful and poignant biography"
is UPDATED with 70 pages of jaw-dropping revelations and never-before-known
details of Patsy Cline's loves and career. Includes excerpts from uncovered,
shattering letters Patsy wrote bluntly detailing the abuse in her second marriage
and 60-pages of rare photos in three galleries.
Photos by Grand Ole Opry photographer LES LEVERETT
The
ONLY
Book

with
EXCLUSIVE
interviews with
Gerald Cline, Jimmy Dean, Charlie Dick, Hilda Hensley, Harland Howard, Jan Howard,
Roger Miller, Brenda Lee, Jean Shepard, Dottie West, Faron Young, and others

Follow Honky Tonk Angel: The Intimate Story of Patsy Cline on FACEBOOK!
~ ~ ~



Ranks Patsy Cline 46 on list of
100 Greatest Singers of All Time
~ ~ ~

A most welcome honor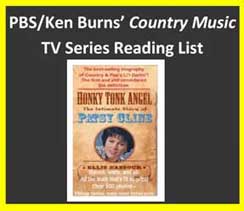 "No Patsy Cline fan on this planet does not own Ellis Nassour's biography of
Patsy Cline. It was the first and will always be considered THE definitive
biography about her long after we are all gone, and it is one of the prime
reasons Patsy's legacy will continue . . . Truth will always win out. Patsy's
music will live forever, but new fans who hear her will always seek out more
information about her. We have Ellis to thank for providing it."
Lisa Flood, Patsified.com

VIDEO CLIPS:
Watch Patsy Cline's Final TV Performance | Rolling Stone
Film transferred to video from The Glenn Reeves Show,
telecast February 26, 1963 from Jacksonville, FL

Click : YouTube - Patsy Cline "Walkin' After Midnight," Two Versions Live
Also find "She's Got You," "Fingerprints," "You're Stronger Than Me" and Ozark Jubilee footage



LAUNCHING WORLDWIDE SOON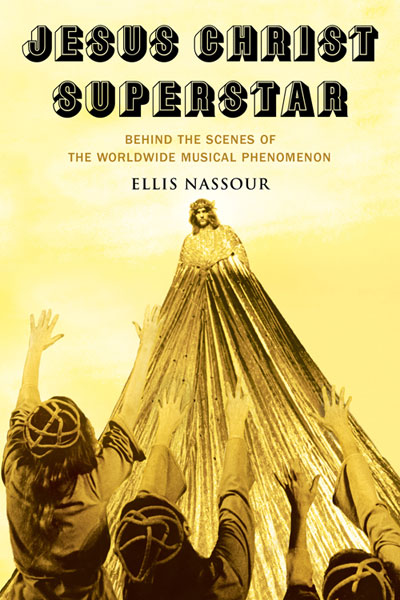 All material, including photographs, on http://www.patsyclinehta.com �1993-2023 EllisNassour

free website hit counters