LOUISE SEGER, LOUISE SEGER a native of Jackson, MS, and, as we discovered, an old family friend. We met in 1980 in Houston, TX.
It was quite a scene: Louise showed up in white Caddy convertible, in
a white cowgirl outfit, with holsters of canned Buds on both sides
looking every bit like a blonde Patsy!

She was EXCLUSIVELY INTERVIEWED BY ELLIS NASSOUR FOR HIS ACCLAIMED 1981 PATSY CLINE BIOGRAPHY, PATSY CLINE : An Intimate Biography, and granted use of the letters she and Patsy exchanged from 1961-1963.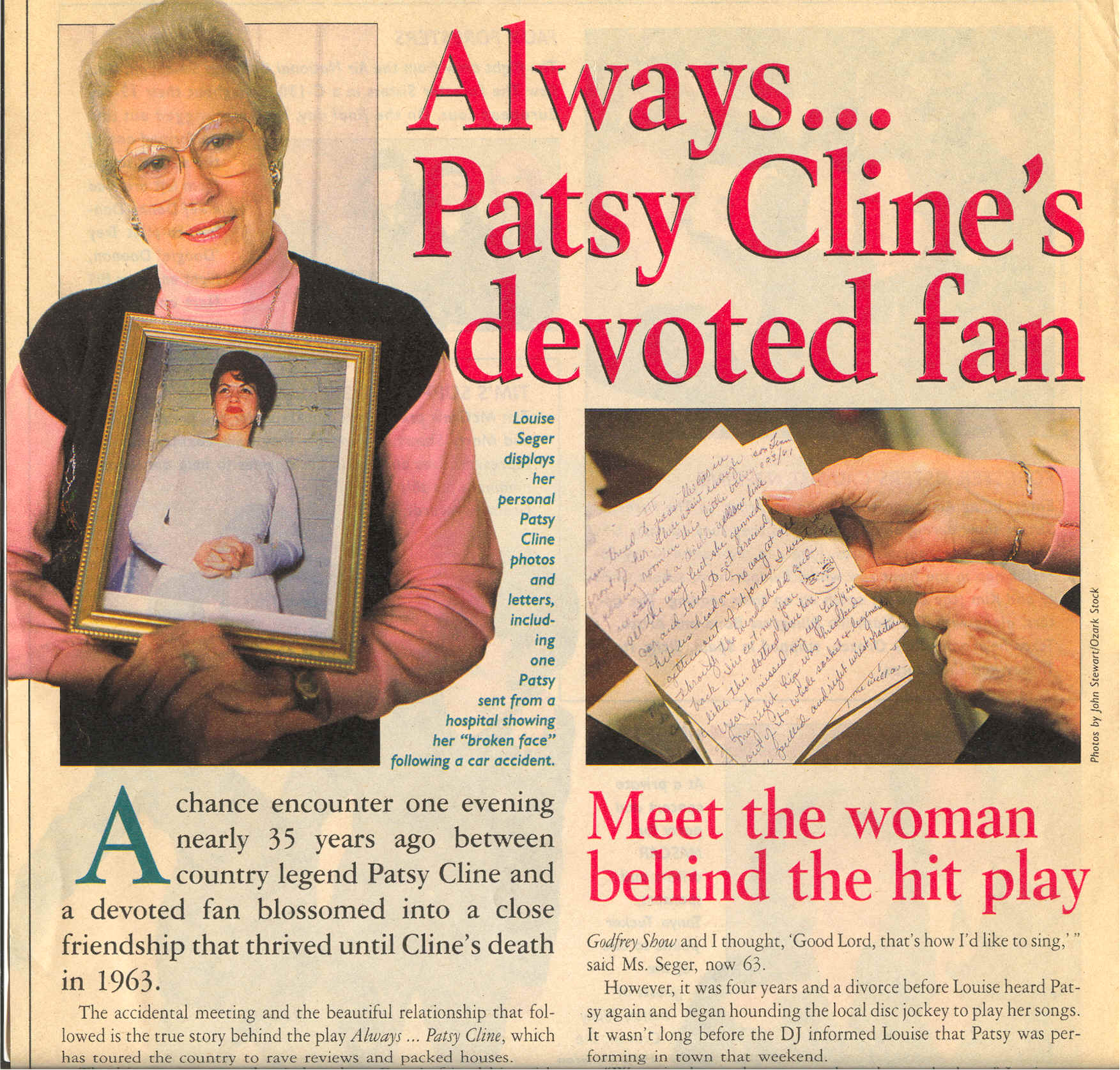 [Photo: Country Weekly Magazine; John Stewart/Ozark Stock]
AN EXCERPT FROM THE LOUISE SEGER INTERVIEWS IN
HONKY TONK ANGEL : The Intimate Story Of PATSY CLINE.
Louise Seger called KIKK Houston radio throughout the day from home and her job to request Patsy Cline records. In early May (1961), while she was speaking to deejay Hal Harris, she learned that Patsy would be playing the Esquire Ballroom. She spread the news and gathered together a group of friends, all dressed in western clothes, or the appearance at the gigantic barn- like club on Hempstead Highway. Louise had insisted they arrive early, and they did. In fact, they were the first. While enjoying her beer Louise looked up.
"I saw this girl looking over the place," recalled Louise. "I thought she was Patsy's agent. The only time I'd seen Patsy was four years ago on Godfrey. Then something went ding, ding, ding!" Patsy took a seat three tables over from Louise, who was about to burst. She told her friends, "I'm going over there."
All eyes were on her as she walked slowly to the other table.
"Excuse me, Miss Cline?"
"Yes," Patsy said, smiling.
"I just wanted you to know how much I admire your music. I have 'I Fall to Pieces' played for me four or five times every day."… Louise introduced herself and asked Patsy to join her group…Patsy kept looking around the club. "This is a mighty damn big place, isn't it?"
"Yes, ma'am," answered Louise, "but, boy, it's gonna be packed."… "I'm worried about the band. I don't know any of the
musicians and I wonder if they know my music. Do you?"
"Yes, ma'am, every beat."
"Would you do me a favor and, during the show, watch the drummer so he won't rush me?"…
Louise happily complied… Around midnight, after Patsy signed autographs and posed for photos, Louise heard Patsy calling for a taxi to return to the Montague Hotel. "No, you'll go with us. We'll go to my house so you can have something to eat."… At the kitchen table [they sat] and talked about "broken hearts, husband problems, children problems, loves lost, loves won. We sounded like tow people writing couture songs."… They traded stories until almost 4:00 A.M…
[Louise talked Patsy into staying the night, so she could arrange for Harris to interview her. She called him at home.]
"Louise, do you know what time it is?"
"I had to reach you before you left for the station. I've got Patsy Cline at the house."
"And I've got Marilyn Monroe in bed. Now, honey, you sleep it off and I'll play 'I Fall to Pieces' for you in the morning."

LATER THAT MORNING, LOUISE SHOWED UP AT THE STATION WITH PATSY AND IMMENSELY ENJOYED HAL HARRIS' REACTION :

"Hal fell through his asshole and hung himself !" . . .