Order the Book
Photo Gallery
Meet the Author
Book Reviews
Book Excerpts
In Memoriam
News
The Musical
Audio / Video
Patsy Cline Letters
Author Interviews
Memorabilia
Under Construction
St. Patsy's Day
Trivia
Games
Fan Comments

Louise Seger Feature

Country Store
Author Links
Add Our Banner
Home

Thank you for visiting the Website of Ellis Nassour's
Patsy Cline :
Honky Tonk Angel
For information about Patsy Cline or to E-mail comments:
PatsyHTA@aol.com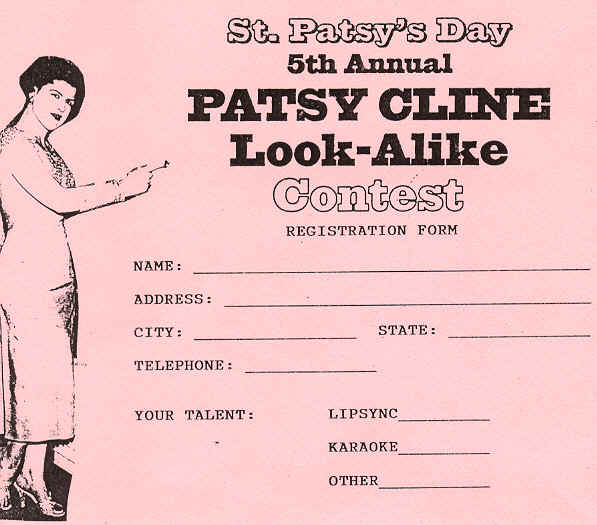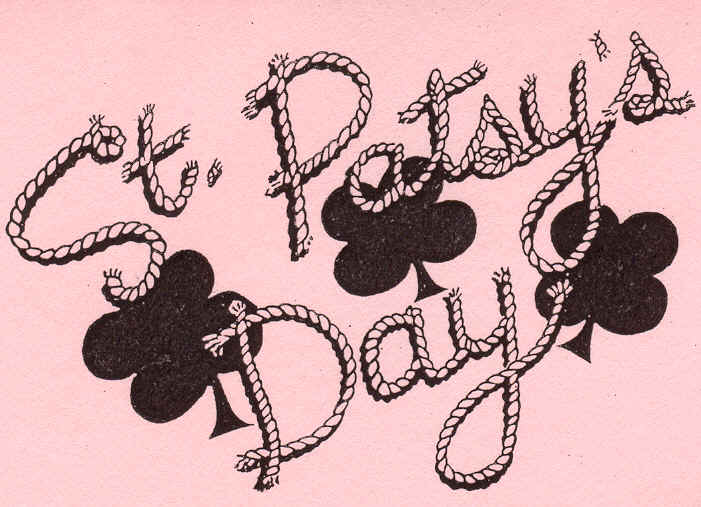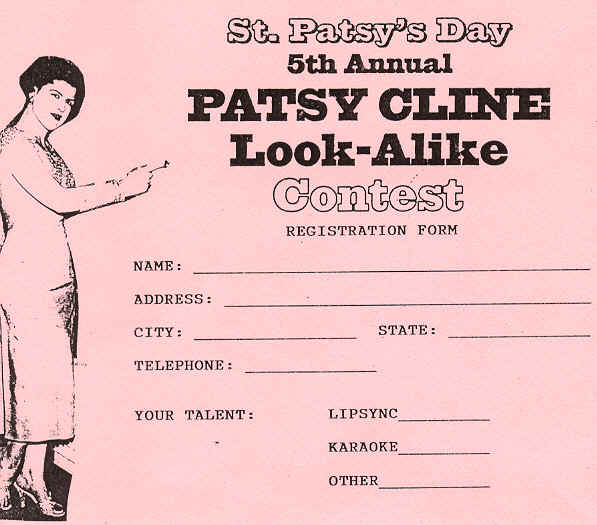 Held annually, March 17th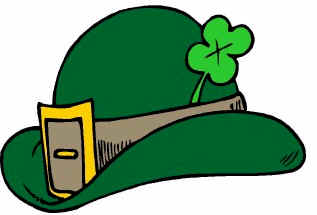 St. Patrick's Day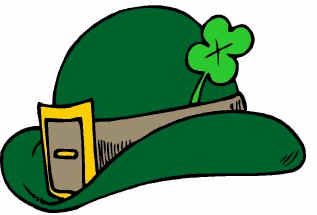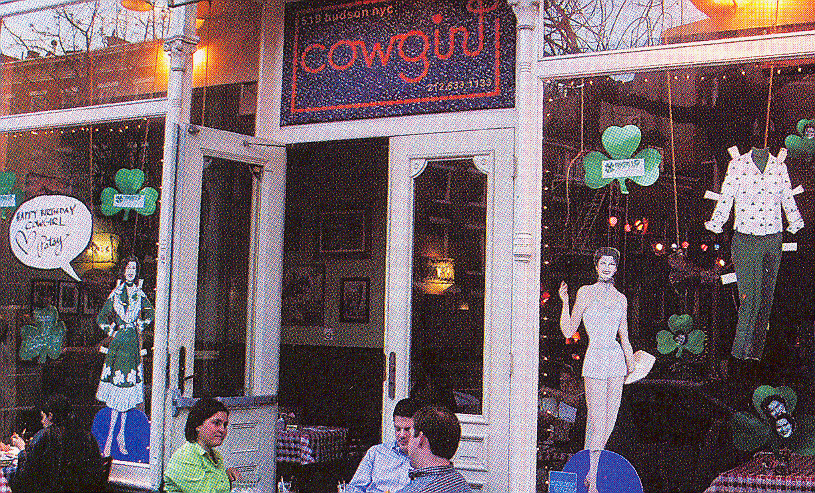 Broadway and regional actress Ren

é

e Lawless Orsini (Beauty and the Beast; Ellis Nassour's hit revue Always, Patsy Cline), 2002 St. Patsy's Day winner, 2002, with Johnnie Ray, a Cowgirl partner.

A dozen Patsy fans entered the Patsy Cline Look-A-Like Contest kicking off the 1993 launch of Ellis Nassour's biography Honky Tonk Angel. Pictured with Ellis, is winner "Rita Menu."

ROSE GALLERY: From Left, the incredible Myra Schiller of Cowgirl; singer Debbie Dangerfield, who won in 2000; and Holly Bendewald of Whiskey Dust Western Wear, one of our annual sponsors. Debbie and Holly were 2004 judges.

WILL THE REAL PATSY CLINE STEP FORWARD? Audience pays tribute to Patsy Cline at the 1995 St. Patsy Day event.

Lulu, a.k.a. Todd Tomorrow (Broadway wardrobe supervisor) as Patsy hosting the 1993 St. Martin's Press launch of Ellis Nassour's new hardcover Patsy Cline biography Honky Tonk Angel at Cowgirl. Lulu was the 1990 winner.

St. Patsy's Day, 1995: Among the contestants are singer/actress Julie Zimmerman (1st row, second from left), winner; Donna Gora (center, holding Country Weekly), Runner Up; and Tommy Stephan (2nd row, far left), third place.

For Great Fun, Music, Food

and Tons of Laughter !

Don't Miss the ANNUAL



ST. PATSY'S DAY
{Patsy Cline Look-A-Like Contest}


EVERY MARCH 17th

St. Patrick's Day night
at COWGIRL
Hudson and 10th Streets,
NY's GREENWICH VILLAGE
For Entry Information: (212) 633-1133
PATSY CLINE'S 7Oth BIRTHDAY CELEBRATION
SUNDAY, SEPTEMBER 8, 2002
at New York's COWGIRL RESTAURANT
RENÉE LAWLESS ORSINI, winner of the 2002 St. Patsy's Day, entertained with Patsy's hits and cut the birthday cake
for 100 fans. A Champagne toast followed.
Renée Lawless Orsini, winner of the 2002 St. Patsy Day event [wearing earrings and broach that once belonged to Patsy Cline!], with Ellis Nassour (right), author of Honky Tonk Angel and co-host [with St. Martin's Press and MCA Records/ Nashville], and Johnny Ray of Cowgirl.

Ren

é

e entertains a packed restaurant, gathered to pay tribute
to Patsy Cline. Some
fans came from as far
as 75 miles for the
event.

Photos: Special to PatsyClineHTA.com

by JAMES BORMANN

Patsy was not there to blow out the candles...

Renée cuts Patsy's birthday cake.