Order the Book
Photo Gallery
Meet the Author
Book Reviews
Book Excerpts
In Memoriam
News
The Musical
Audio / Video
Patsy Cline Letters
Author Interviews
Memorabilia
Under Construction
St. Patsy's Day
Trivia
Games
Fan Comments

Louise Seger Feature

Country Store
Author Links
Add Our Banner
Home

Thank you for visiting the Website of Ellis Nassour's
Patsy Cline :
Honky Tonk Angel
For information about Patsy Cline or to E-mail comments:
PatsyHTA@aol.com
Be sure and visit the

PATSY CLINE COSTUME GALLERY

Continue Forward for Information on the
Mamie and Ellis Nassour Arts & Entertainment Collection
. .
PATSY CLINE MUSICAL PLATE FROM THE FRANKLIN MINT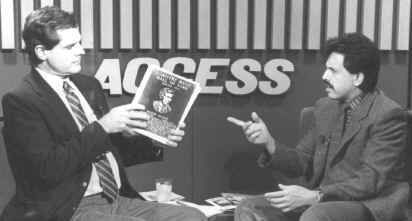 Author Ellis Nassour on PBS'
Access, 1990

1985 : Jessica Lange on location in Nashville filming biopic Sweet Dreams at Ryman Auditorium.
Highlight from the pen/computer of ELLIS NASSOUR :
For more Celebrity Profiles by ELLIS NASSOUR, go to:
BROADWAYSTARS.COM
Under COLUMNS, Select ELLIS NASSOUR . . .
And
Playbill.com
And
TotalTheater.Com ...
Select PERIODICA ... Type NASSOUR in the Search Box . . .
~
Also visit GOOGLE.COM and ALTAVISTA.COM